DLM250 Update
type
Product Information
DLM250 available as updated version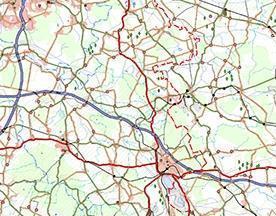 The Digital Landscape Model 1:250 000 (DLM250) of the Authoritative Topographic-Cartographic Information System (ATKIS) is available as updated version which has also been adjusted to the AFIS-ALKIS-ATKIS data model (AAA).
The changes in the datasets regard the annual top updates of the feature types with capital importance and the capture of new features an attributes in the theme settlement, traffic and water bodies. In addition, a compacting and a further approach to the acquisition criteria according to the GeoInfoDok were achieved.
The dataset is released as compact dataset in NAS structure DLM250 (Compact) and in the level structure as DLM250 (Levels) with extended content. Please use our open data area for a free download.